Neighbourhoods, networks and radio – the thing that they all have in common is that the fine threads of their connections are only visible as temporary events: in celebrations and festivals, in exchange and support. They are organic by nature; they can expand, contract, divide, they need care and pathways… similar to a garden, whose inhabitants make contact above, as well as underneath, the ground. Datscha Radio's installation "Unearthing the Archive" traces what's below the surface, and the communality of these networks. For the exhibition at c/o Kunstpunkt, Datscha Radio is earthing and reassembling its archive, and allowing it to resonate.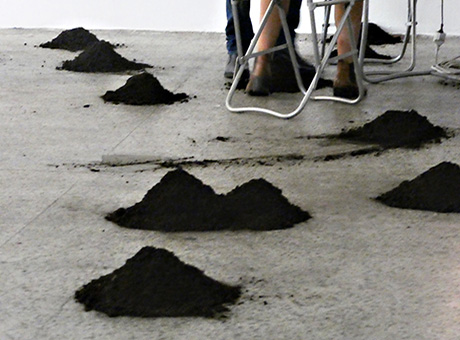 "Unearthing the Archive" transmits performative pearls, linguistic matter, and music from the micro/macro cosmos of human as well as vegetal neighbours. Between molehills and mobile radios, deck chairs offer visitors the opportunity to make themselves comfortable and listen in to selected shows transmitted from the archive.
The group exhibition RAUMOHNERAUM #3: In the Neighbourhood at c/o Kunstpunkt Berlin was part of an exhibition series organised by the Netzwerk Freier Berliner Projekträume und -initiativen e. V..
Artistic Archivists: Gabi Schaffner, Kate Donovan, Niki Matita, Helen Thein
Featured DR artists on Mole Loops: Frieder Butzmann, Carolina Carrubba, Joaquín Diaz, Alberto García, Anna Katarina Martin, Eva Kurly, Ryan McFayden, Plants and Empire, Suetzu Flight Master's Whistle, Martha Zapparoli