"To create a garden for listening and international cooperation which appeals to all of the senses – this is the aim of Datscha Radio"
Datscha Radio 2012 was an art and culture project conceived of together with net activist Pit Schultz and Verena Kuni (Radio and Visual Media, Goethe University Frankfurt). We broadcast 24/8 around the clock on 24th – 31st of August on stream on datscharadio.de, via micro transmission in the garden and on 24th, 25th and 26th August from 8pm on on reboot.fm/88.4 FM Berlin.
---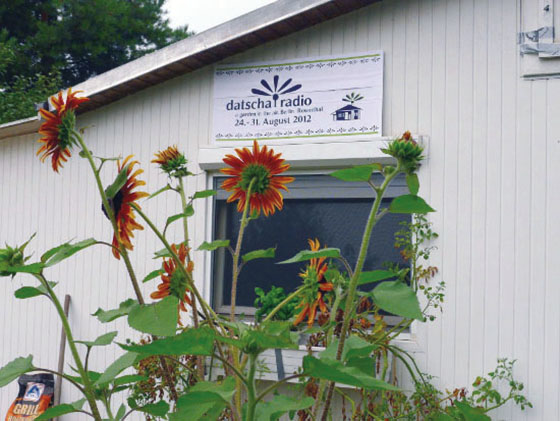 Garden culture and Berlin culture belong together. The garden colony of the "Einigkeit" (Unitiy) was established as early as 1915. Less than 200 m from this garden and until 1989, ran the Berlin Wall that separated the Eastern "Rosenthal" from the Western "Maerkisches Viertel". The "Datscha" (summerhouse) in the allotment garden No 665 was built in the mid-60s and has a floor space of approx. 60 sq.. The garden has 600 sq.. There are four patches for growing vegetables, two big flower beds, and several fruit trees on the lawn. Our radio program integrated local and international protagonists, artists, musicians, poets and guests.
Datscha Radio's concept of "A Garden in the Air" extended on a variety of levels and contents: Participation of neighbors, hospitality, "garden kitchen", sound art, live concerts and events, interviews and talks. Datscha Radio acted both as a meeting place and as a space for productions of art. Participating artists in the garden: More than 50 Berlin and international composers sound artists and radio makers answered Datscha Radio's open call. Datscha Radio was realized with the support of the Amt für Weiterbildung und Kultur, Pankow. The project was realised in cooperation with the Berlin artist radio reboot.fm.
A complete documentation (bilingual) is available on: Datscha Radio – 8 Days of Summer Garden Radio
---
© Copyright Gabi Schaffner 2019 RSS
content managed by Stacey
---