---
A five-day festival celebrates the future(s) of the garden and broadcasts directly from an allotment garden in the Berlin north.
In August 2017 Datscha Radio broadcast again from my garden in Berlin Pankow, with the joint support of Freie Radios Berlin Brandenburg (frbb).
Datscha Radio 17 was realised by: Gabi Schaffner, Kate Donovan, Niki Makita, Helen Thein, Suki Shanti Osman und Verena Kuni.
Studio Support: Studio Ansage, Pi Radio (both FRBB)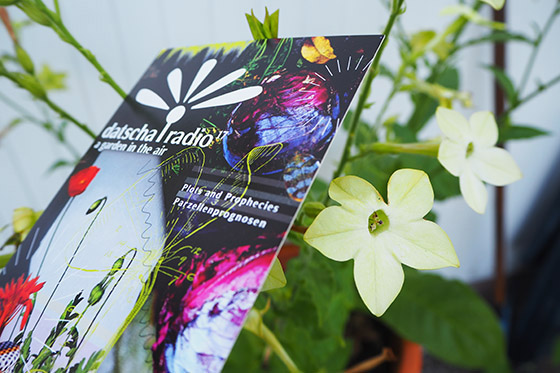 With "Plots and Prophecies – Parzellenprognosen" Datscha Radio 17 created an interdisdiplinary program broadcast 24/5 from the 25th – 29th August 2017 – on stream, via micro FM and on selected days on 88.4 (90.7 in Potsdam). Aligned with the length of the festival, the radio makers, artists and guests focused on five subject areas:
Hortus Politicus
Symbioses
Biotopes in Future Perfect
Birds and Bees
Subterranean Meditations
The process of radio making – otherwise quite a hidden event – became transparent in the Datscha's winter garden and outside studio transforming the privacy of the garden into a public space for art and communication. Datscha Radio 17 was supported by the Pankow Amt für Weiterbildung und Kultur and the Hans and Charlotte Krull Foundation. The format "Midday Discussion" was developed in cooperation with the Heinrich Böll Foundation Berlin. Streaming support came from Udo Noll, aporee.org.
Complete documentation available here.
Press articles can be viewed here.