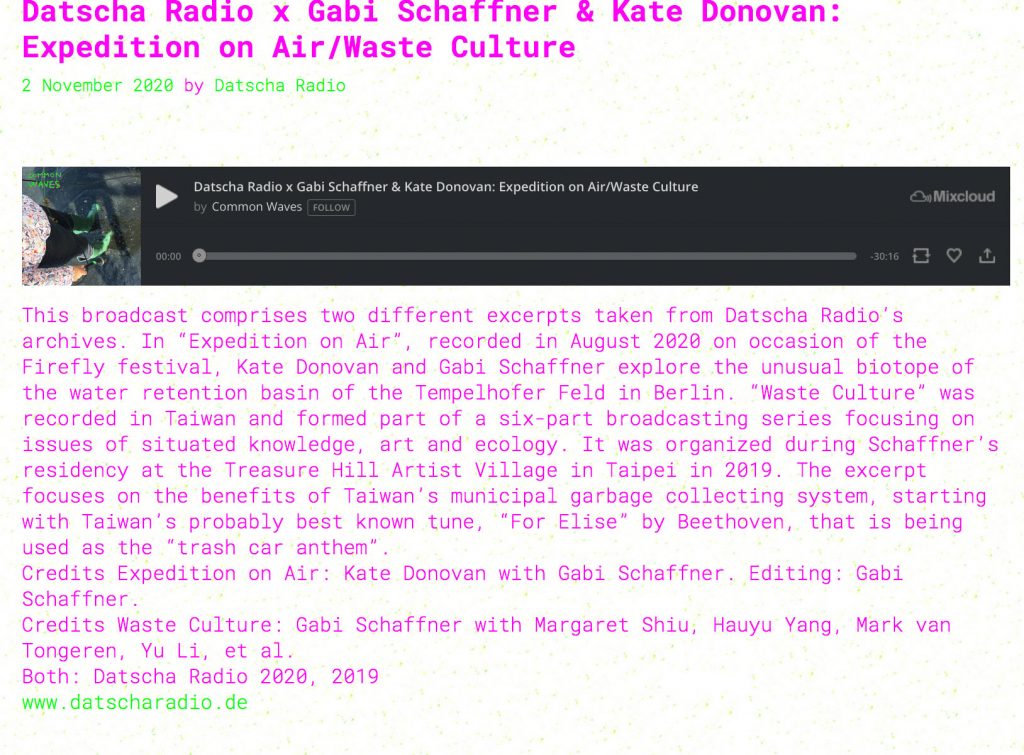 Pleased to announce that since November 1 Datscha Radio will be broadcast within the frame of the COMMON WAVES festival.
Super pleased also to find ourselves among long-standing friends, colleagues and collaborators. Please have a look at the schedule.
My personal thanks to Ute Seitz!
Common Waves is an International Radio Collective launched during Tbilisi Architecture Biennial 2020. Along the theme of the Biennial "What do we have in common" we will explore the different layers of common spaces – public, collectively organised or imagined spaces of community.

How do we share spaces? What defines the public areas around us? How are they built and what do they sound and look like? Do they serve the needs of communities or individuals, companies or states? Who decides how we move and act in our cities? How can we design open spaces that allow creativity and diversity?

Our answers to these questions may be artistic, activist, professional, transdisciplinary, historical, local, global, subversive or emotional. We believe in the power of independent radio to voice diverse perspectives and promote experimental approaches – even more so in international cooperations. This is why our collective is formed by various community and artist radios, podcasters and individuals.

The Common Waves Collective will produce and curate interviews, documentaries, sound art and DIY radio formats during Tbilisi Architecture Biennial 2020 and beyond.